I just can't get enough. I love ice cream (and gelato, sherbert, frozen yogurt, sorbet, non-dairy selections, ices - the list goes on forever). If shit's hit the fan in my world and nothing else can move me to higher ground, hand me a cup, pint or cone and I will be dancing and smiling by, mmmm, roughly three bites in.
We had no idea when we dropped anchor in Minneapolis for the summer how massive their ice cream community is - MSP is consistently named one of the top cities in the country for its incredible dairy delights. After no less than two stops a week for the ten weeks we were local, I'm left with an addiction aching to be fed. Check out our top three shops below while I revisit every chilling-rich bite.
A Minneapolis-St Paul staple for 30 years, this shop was the first retail ice cream parlor in St Paul. Now with two locations - one in each of the Twin Cities - locals still flock to the ice cream and pizza stop for their fresh-made waffle cones and decadently creamy flavors.
When we opened the door on our first visit, the warm, sweet smell of made-on-the-spot cones nearly knocked us back outside. One staffer dedicated her attention to mixing, pouring, cooking and rolling one at a time, then stocking them behind the counter where each has a Whopper dropped in the bottom pre-order.
It's Father's Day, and Billy's dad is up for the day. He and Billy order first - each beautifully round scoops perched perfectly atop the golden cone. I'd read somewhere the scoops are more generous for the ladies in the house, but I was in no way prepared for the mountain of ice cream bestowed upon me by a grinning pubescent high schooler - THIS is what summer is made of.
We hung on the patio and enjoyed our scoops in the sun, struck nearly speechless by the enormity of my cone and the awesome richness of each flavor. This was, for us, the creamiest scoop in the land with the freshest cone - a classic ice cream experience we'd revisit as often as possible through the next couple months. Our only beware is to keep a delicate grip on that delightful cone - it's all too easy to put a finger right through it and be struck with ice cream disaster.
For more on Grand Ole Creamery, check out their website.
The story behind this St Paul institution is one we hold dear to our hearts - a couple with a passion for ice cream commits to opening a shop, first learning from Italian gelato experts, other shop owners, consultants and books, then working day and night perfecting their recipes and techniques, sourcing only the best ingredients and voila - two storefronts and 150 wildly sought after flavors.
Aside from just ice cream, the duo created the ingenious marketing tool behind many an ice-cream frenzy at our house - their proprietary Flavor Up! system. This subscription email service allows a user to select any flavor on offer by Izzy's, and receive an email when that product hits one of their two locations. With new flavors up a dozen times a day, it's near impossible to tune out notifications for their elusive Chubby Bunny (cinnamon and nutmeg base, carrot cake, raisins, cream cheese frosting, walnuts - I stalked this flavor all summer only to show up at their Minneapolis store after it ran out!), their amazing Lemon Buttermilk (lemon custard, lemon juice, lemon extract, buttermilk - our FAVORITE FLAVOR EVER) or their Summit Oatmeal Stout (dark, malty ice cream with reduced Summit Oatmeal Stout).
Izzy's definitely reigns the region when it comes to creative and beguiling flavors, and their Izzy Scoop is the, quite literal, icing on the cake... err cone. A complimentary 3/4 ounce scoop comes on top of every order - in whichever favor you please! If you know us here at Nowhere Native, you know we are into that little something extra, which is exactly how the duo describes this teeny lump of love.
For more on Izzy's, and to sign up for their Flavor Up! system, check out their website. And if you come across that damn Chubby Bunny, I will be forever indebted if you can score me a pint.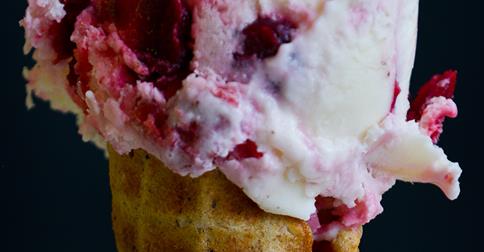 This small shop has been around for 12 years now, creating some of the most refined flavors we sampled in the area. Winners of a handful of accolades, including Food and Wine's Top 25 ice cream shops in the country 2011, and one of Fodor's 15 best ice cream shops in the country this year, Pumphouse is consistently churning out quality combinations with hyper-local, organic ingredients.
Among our favorite flavors are the simply outstanding Door County Cherry, Passionfruit Mango Vanilla and Sea Salt Caramel Pecan - the last of which saw my eyes roll back in my head and tear up in pure frozen dairy bliss, indescribably perfect. They do keep their offerings small - just 20 flavors on hand each day - and that short list of choices still feeds the awful reality that few mildly self-respecting adults can honestly palate more than three scoops of their glory - it would be an injustice to any one flavor to overdo these delicacies and risk missing the finely balanced nuances in each combo.
We can't recommend this lesser-traveled shop enough - for more on Pumphouse Creamery, visit their website.